Reduce your cost of sales and increase profits by selling more room nights through direct bookings.
In the old days before Online Travel Agents (OTAs) the larger hotels typically would sell to wholesalers, who then sold room nights to tour operators, who then sold to travel agents and finally to the end consumer for leisure and then more frequently for business as well. This was a multi-layered relationship where nobody was quite sure how much was paid, what the margins were or who was ultimately benefiting from something so opaque.
In the earlier days of OTAs they were seen as a convenient distribution channel where hotels and airlines could sell their extra inventory quickly and at the last minute if needed. Fast forward to today and technology combined with changes in booking behavior has allowed OTAs to carve out a significant market share of online business, and brought more transparency to the booking process. A few of the OTA players below: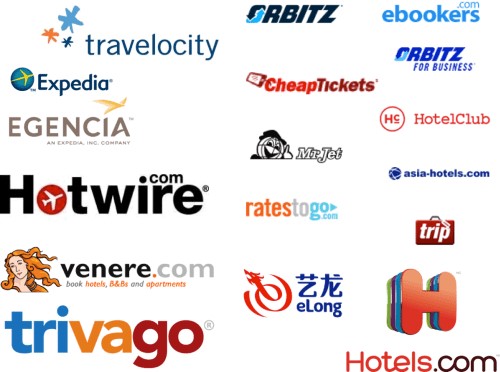 The volume of online business today that hotels receive via OTAs is significant both for its sheer size but also how much hotels rely on it as a source of business. As an independent hotel operator there is no way to match the scale of OTA distribution or the strength of the OTAs brand awareness amongst travellers. Expedia and Priceline the major OTA players continue to invest in massive marketing campaigns, both offline with mainstream media and online, building up positioning as the "go to" resource for travel booking and research.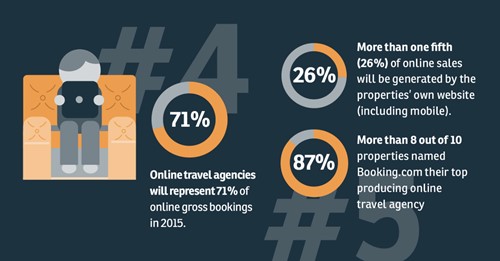 Currently, in Europe, almost seventy percent of independent hotel reservations comes from an OTA (Source: Phocuswright). 
So most hotels feel it is a necessary evil to pay the high commission costs to get business when they need it.
Now hotels would of course love to have the majority of their bookings come direct without the burden of having to pay commission - but in todays marketplace it makes sense to seek a balance between growing your own direct business along with a tightly controlled OTA channel. If hoteliers could turn off OTAs then there is the risk that your hotel would miss out on the exposure offered by these sites, as guests use them for research purposes as well as making bookings.
For a lot of hotels the problem isn't how to increase OTA bookings, but rather how to increase direct bookings through their own channels.
The classic booking path for a guest may start with a search on an OTA website. Then they make a shortlist and check details on the actual hotels website to get a more informed view. However what tends to happen is that the user gets frustrated if they are not able to compare "apples to apples" and find hotels using different listings, room types, features and cancellation policies. An unsatisfactory user experience leads to frustration and often the visitor heads back to the OTA site to complete the booking.
Now is a good time for hotel operators to get smarter, to employ a more proactive direct booking strategy. This will increase the potential to earn higher revenue and reduce the cost of doing business. Any reduction in OTA commission costs against rooms revenue goes directly to your bottom line as profit.
There's been a huge amount of talk in the industry recently about direct bookings, in an attempt to understand how to dislodge the perceived stranglehold that OTAs have and to shift some of that business to your own channels.
9x reasons why you should invest in your direct bookings:
Less choice, higher commissions
One of the biggest threats to hoteliers is their over reliance on the OTAs as a source of business. The OTAs continue to grow their share of travel bookings from massive investments in keywords, re-marketing and a focus on improving the overall booking and user experience through the OTA website.
If hotel operators don't start to try and stimulate their own direct booking channels (website, telephone calls or "walk-ins") then they will struggle to challenge the OTAs dominance and face the consequences of over relying on a channel that can be difficult to direct in the way that they want. 
Embrace Technology
HappyBooking is first and foremost a property management system. That means they help you with the boring admin and automate tedious tasks giving you more time to monitor your online reviews and interact with customers. More time to run your property in the way that you want. On average customers can get back up to 10 hours per week  – think what you could do with that extra time! Technology needs to be approached as a way to automate, to give you more time to focus on those actions that have the most impact on your customers – their guest experience.
One of the most effective ways to stimulate direct bookings is to provide a great stay experience that then opens up a dialogue between you and the guest. If a guest has booked through an OTA it is a great opportunity to convert them to book directly when they are actually in your hotel.
Exclusive benefits for those that book direct
The most effective way to convert a guest staying in the hotel to book directly is to create awareness of the exclusive benefits that you provide for direct bookers.
Typically a guest who stays at your hotel who received extra benefits is a good prospect to leave an online review, and may want to make a booking for a subsequent trip.
Online marketing promotions
Major hotel chains like Marriott and Hilton have tried to stimulate direct bookings by investing in large scale marketing campaigns that educate customers to the benefits of booking direct.  
For small to medium sized operators this may not be a path that they can take because of budget and time restraints. But they should look at what they can afford to do and at least adopt social media platforms and focus on your own channels such as the website or email and newsletters to spread the word about the benefits of booking direct.
Cheaper customer acquisition cost (CAC)
With the cost of a typical OTAs commission around 15% and 20% to get a direct booking costs far less, and even when combined with other marketing activities it is still far more cost effective. And any reduction in your cost of sales goes directly to your bottom line as profit.
In control of the guest relationship
OTAs don't typically include the guest's email address with the bookings. If you need to contact the guests, you may do so through the OTA portal which leaves less opportunity to develop the relationship with for example pre-stay emails, review requests and newsletters.
When guests make direct bookings, you have access to different information about the guest. You have their geographic location, age profile, which device they made the booking on, how they searched and any history, etc. All this data can enhance your communications with them and help you to be more targeted in any offers you provide.
A chance to lower the risk of cancellation
Cancellation rates for OTAs average about 40%, whereas cancellation rates vary from hotel to hotel, but 10% would be seen as a high cancellation rate. OTAs actively encourage guests to make a booking early in the booking process. They highlight the 'No Cancellation Fees' and flexible nature of most rates that they make available.
It is in the OTAs interest to let the customer think that they have their best interests at heart – so they highlight even other hotels in the area who may have a better deal. This often means that hotels are holding inventory for a booking, on high demand dates, for bookings that are liable to be cancelled if the situation suits the OTA.
Improved guest loyalty
A guest who books direct rather than through an OTA is more likely to come back and spend more while at your property.
If a guest books through an OTA, a proportion tend to be cost focused and this may not be the category of guest that can be persuaded to book direct even with additional benefits. Often a guest is using an OTA channel because all they want is the cheapest price. They may be using the OTAs size and power of negotiations to make sure that they get the best available rate.
Protecting your brand 
The more that you can directly manage the overall buying experience with a guest, the more control you will have with how a guest interacts with the different aspects of you property. From the online buying experience, reservations, check-in and out and hopefully a satisfactory stay.  
It is always good to make sure that the message and imagery that you have on an OTA website represents you in the strongest way possible. But you have most control over the message when the visitor is looking at your own website or reading an e-newsletter that you have sent. 
Each online distribution channel can play a different role in your hotel marketing program, culminating in a healthy mix of channels, rather than relying solely on one, for example the OTA. Giving the majority of your room inventory to one channel may help in the short term but it will make it difficult for you to manage the business going forward on your own terms.
Take Away
HappyBooking have always focused on creating a user-friendly booking system to help property owners improve their revenue performance, and generate more revenue by reducing the cost of sales by shifting bookings to a direct channel rather than via an OTA. Take a quick tour to see how it works - click here.
In addition to help you find the time to improve your revenue management skills, HappyBooking have written together with John Kennedy a Basic Revenue Management Guide for operators of hotels, hostels, apartments & meeting rooms.
Drop us an e-mail here  to get the free guide. 
Our guest blogger is John Kennedy. 
John is a hospitality consultant, dedicated to helping increase revenue through marketing, revenue management and efficient operations. www.kennedyandersson.com
Image source: www.freepik.com
---
Interested in what we do and want to know more? Enter your email adress below and we will be in touch!